Product Description
The PP Non Woven fabric is produced using a precise extrusion-based technology. The polymer is stretched to a continuous filament and loosely spread onto a conveyor belt to form the web. Air is used to form and lay the fabric filaments. The Yuyang Nonwoven Machinery is the direct nonwoven production line manufacturer, so that our company is able to provide high quality non-woven fabric with lower price.
There are various types of non woven fabric, such as PP, PET, and PVC. Our company is specialized in non woven fabric that uses PP as raw material. Nonwoven fabric is featured as shorter process flow, faster production rate, higher productivity, lower cost, wider application and more sources of raw materials. Since we are the direct manufacture factory of nonwoven machine, we are able to provide non woven fabric of more uniform appearance, higher quality, greater intensity, better breathable feature, and better feeling.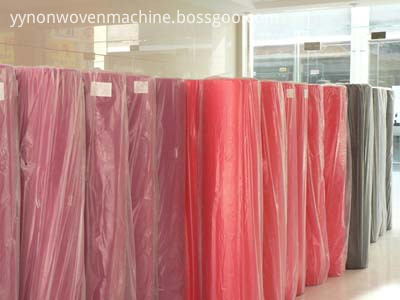 Advantages of nonwoven fabric:
1. Light weight: PP non woven fabric uses PP as raw material, and the weight of pp non woven fabric is three- fifths of cotton. Therefore, it has the characteristics of easy to carry, good puff performance and so on.
2. Water repellent and breathable: polypropylene chip does not absorb any water so that it is easier to keep the cover dry.
3. Flam retardant, anti-aging, anti-static, antibacterial: polypropylene provides good insulation.
4. Eco-friendly: it is degradable.
Application of nonwoven fabric:
1. Agriculture: harvest cloth, cloth canopy.
2. Industry: floppy disk liners, filter material, cable distribution, FRP towels.
3. Packaging: composite cement bags, luggage interlining, packing base lining.
4. Home Lifestyle: insourcing sofa cloth, tea bags, shopping bags, curtains.
5. Medical and health use: surgical gowns, protective clothing, non-woven masks, diapers, wipes, magic towels, beauty products and so on.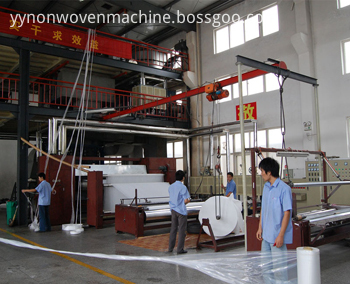 Related Product: PP nonwoven machine, Nonwoven converting machine, Meltblown fabric production line.